Jamie Okuma Tamarack
Regular price
$360.00
/
Foot Lining: Sheepskin Shearling

Height: 12" Tall
Materials: Suede Leather
Sole: Glacier Grip Tipi
Shaft Circumference: 
L5-7 15.5" L8-11 17"
Limited Edition: ONLY 300 pairs created. 
We Share Warmth
Manitobah Mukluks is dedicated to sharing success and our platform with Indigenous artists and creators. We designed this limited edition Tamarack Mukluk in collaboration with Jamie Okuma...there are only 300 pairs available!
About the Artist
As early as Jamie Okuma can remember her life has been in the art world. Her mother Sandra was a graphic artist and worked at MCA records when Jamie was a child. During her time there she produced album covers for Lynyrd Skynyrd, Cher and others. After high school Okuma took graphic design classes at Palomar College before attending the Institute of American Indian Arts in Santa Fe. Jamie Okuma a professional artist completely devoted to her art, has exhibited her work at the Phoenix Heard Indian market and at the Santa Fe Indian Art Market. She has garnered a total of five Best in Show Awards; Two from the Heard, and three from the Santa Fe Indian Market. One of only two artists to achieve this distinction. Okuma has work in the permanent collections of The Minneapolis Institute of Art, The Nelson-Atkins Museum and the Smithsonian's National Museum of the American Indian.
About the Art
"I wanted to change it up and have a geometric parfleche aesthetic, a more monochromatic earthy tone. This is a contemporary design I created and not tribally specific."
Care instructions: Our artist collaborations are printed, delicate, suede leather. They are not waterproof and should not be worn in muddy slush. Please spray them carefully with high-quality, new, silicon-based spray. Wear and tear can be covered with shoe polish.
This product fits true to size.
Size Chart: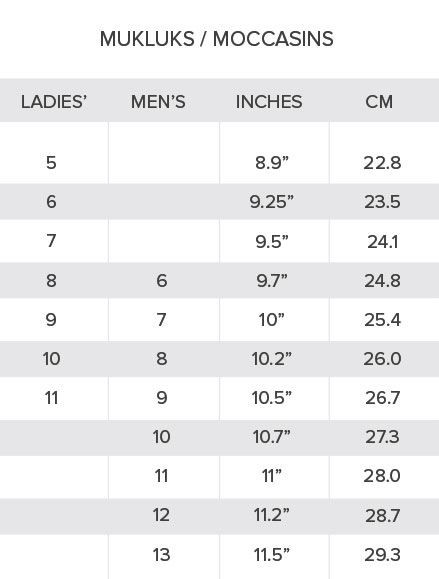 Click here to see our sizing guide